Your Online Resource
for learning how to ...
Reduce Cost by Reducing Conflict
Manage and Market Your Reputation
A Mears Management Offer:
Brand you or your agency by partnering with us;
Join our advocacy for bridging the economic divide,
be an online mentor, post public relations profiles,
write articles, share your experiences, give advice,
inspire others without leaving home or office.


Click HERE for your BC Membership

the
Mears Management
Philosophy

Wherever there are groups of people, there will undoubtedly be disagreements precipitated by some form of a power struggle. Ongoing conflict is a precursor to ongoing stress, which can have high financial, emotional and physical costs. Decisions that ultimately impact others should be viewed from a more proactive perspective rather than taking a reactive stance. Using this approach can deter issues which can be amicably resolved before they become insurmountable.
Business failures or closings are a direct result of mismanagement mostly due to profits pre-empted by customer conflicts and staff disputes. Such ongoing issues eventually result in sales deficits. When organizations sit stagnant while trying to determine which projects to initiate, primary objectives can quickly become secondary to personal quests. Schools continue to be unsuccessful In spite of the well known mission of the federal "No Child Left Behind" policy. Students still fail because of academic and/or behavioral deficiencies. People are sometimes overwhelmed by situations that seem beyond their ability to control. They usually haven't really considered all their options for making necessary changes, or they mainly need help getting motivated to take action.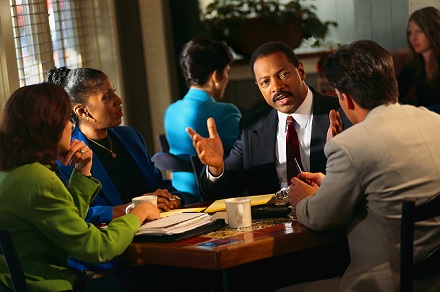 Core of Conflict
Disagreements amongst people have obviously been around since the beginning of time. And it's normal to have differences of opinion. That's what makes life so interesting. Unfortunately, some people get carried away with their own opinions and allow them to create havoc in their lives and the lives of others.
Conflict can damage relationships and destroy trust. Administrators who make decisions without giving due process or giving just consideration to other folks rights are abusing their authority.
Racial conflict, including conflict between different races and conflict within races, has paralyzed generations of people for centuries. There are different theories as to how, when, and why this phenomenon exists. But A strong desire to control others is the main culprit and core of such behavior. Racial, gender and generational differences comprise what is often referred to as "The Cultural Divide." These three main groups are further complicated by numerous subgroups, such as religious and political affiliations.

Not All Problems Can be Negotiated
Some experts say everything is negotiable, but I must disagree. Sometimes there simply is no gray area. Right is right, and wrong is wrong. Sometimes you just have to stop delaying the inevitable and get on with it. Not everyone will accept the abuse and will decide to fight back.
Finding an Attorney
Filing legal charges can become the only solution to an ongoing issue in business, at work, school, home, or anywhere. Finding the right lawyer can be difficult, especially if he or she can't be trusted to properly handle your case or if they set their fees out of reach.
If your case is set aside, ignored, or forgotten, the first person to suffer the consequences is you, the client. Every now and then, the lawyer has to pay the piper. And If your case was mismanaged by your attorney, you have the option to file a complaint with the state bar association.
Examples of charges can include such things as the attorney's failure to communicate with you and/or the courts in a timely manner, and his or her lack of competence. But by this time your case has already been lost, and your wallet has already been hijacked. So you may, or may not, feel avenged.
Knowing that you could end up with the short end of the stick should be enough warning for you to want to prevent and resolve conflicts that could eventually lead to court petitions, lengthy hearings, expensive attorney fees and all the other inconveniences that come with the territory.

Advantages of Reducing Conflict
for
Businesses

Better Customer Relations
Augmented Sales and Profits
Improved Employee Morale
Reduced Lawyer Fees

Organizations

Enhanced Staff & Public Relations
Greater Project/Program Success
Better Time Management
Reduced Legal Cost

Schools

Amplified Student Achievements
Good Student and Staff Relations
Improved Reputations
Reduced Attorney Fees
Individuals

Enriched Lifestyles
Extended Interrelationships
Heightened Self-Confidence
Reduced Stress and Court Costs


Click Above Picture
for Mears Management's Services
Ollie K. Mears
Owner of Mears Management
Founder and Publisher of Bronzed Connections
Click here for professional profile
Click info@mearsmanagement.com to send comments and questions
Page Last Updated: Wednesday, April 19, 2012
Physical Address:
21384 Burtons Church Road
Melfa, Virginia 23410
Mailing Address:
P.O. Box 787
Onley, Virginia 23418
Phone: 757-787-7016
---
| Return Home | Consulting Services | Bronzed Connections | Owner Profile | Contact Info |